Catherine L. Moore of Indianapolis was not a cartoonist. So why, you ask, is she here on a blog about cartoonists? I'll get to that, but first the facts. Catherine L. Moore, known as C.L. Moore, was one of the most important women writers of science fiction and fantasy during the first four decades of the twentieth century. Before she came along, those fields were long on science (or pseudoscience) and short on feeling and color. Catherine changed that, beginning with her first story, "Shambleau," printed in
Weird Tales
in Nov. 1933. "Up to that time," wrote
Lester del Rey
, "science-fiction readers had accepted the mechanistic and unemotional stories of other worlds and future times without question. After the publication of Moore's story ["Shambleau"], however, the bleakness of such writing would never again be satisfactory." Although "Shambleau" is probably her most well known and widely read story, Catherine wrote many more, alone and in collaboration, over the next quarter century.
C.L. Moore wrote for pulp and digest magazines of science fiction and fantasy--but never for the comics. However, her work has been adapted to comics at least twice, first, in a French magazine called V-Magazine, in the summer of 1955. The artist was Jean-Claude Forest (1930-1998) who went on to greater fame as the creator of Barbarella. Forest's version of C.L. Moore's famous story is not quite in a comic book format. You might say that in its mix of text and illustrations, it's about halfway between Prince Valiant and a Big Little Book. Here's the title page: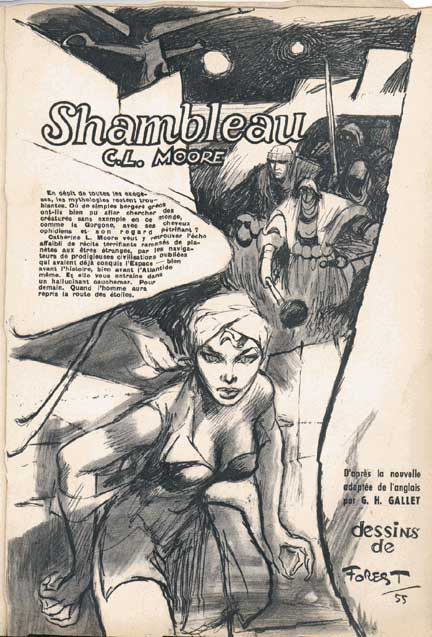 Despite the revival of interest in pulp fiction during the 1960s and '70s, no one sought to make further adaptations of Catherine's work. Finally, in his never-ending search for material for his Marvel Conan stories, Roy Thomas struck upon Catherine's little known "Werewoman" as a source for an adaptation. "Werewoman" was originally printed in an obscure journal called Leaves in the winter of 1938-1939. Thomas' version, drawn by Robert Brown and Rey Garcia, appeared in The Savage Sword of Conan #221 in May 1994.
And that is it. Despite the richness of C.L. Moore's fiction, comic book writers and artists have apparently not discovered her work, or if they have, they simply haven't been up to the challenge. That may not be so bad, especially now, in this age of unremarkable comic book art.
Text copyright 2011 by Terence E. Hanley